1978 Mercedes-Benz 400-Class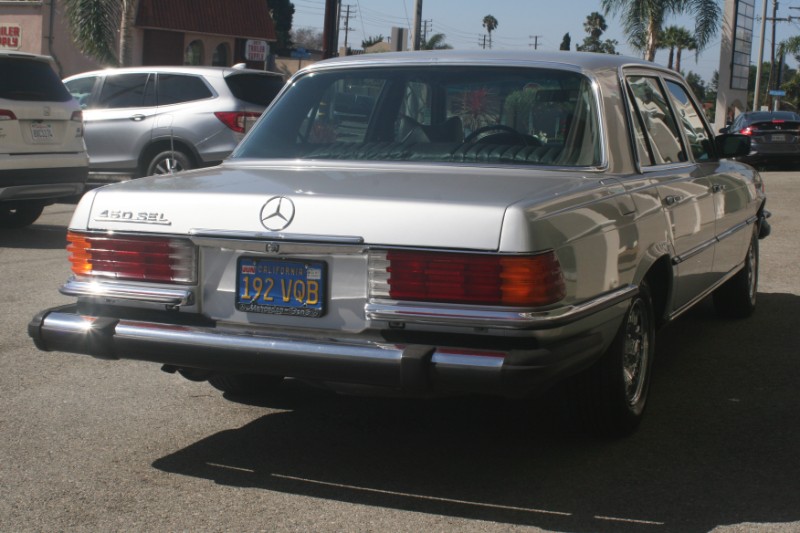 This is a 1978 Mercedes-Benz 450 SEL. Under the hood is a 6.9 liter V-8 Engine, coupled with a three speed transmission. 1600 were produced for the international market and only 437 built for North America , that same year. Having that information makes this a rare car. Not to mention , it has had only one owner. All 43 years spent here in Sunny Southern California. Always garaged and covered at night. You will note that the 450 SEL still wears the original blue California License Plate, issued by the DMV to the original owner when the car was new. This car originally sold for$53,000 in 1978, To show you value, put that into 2021 dollars and you get about $185,000. When the owner took delivery of the 450 SEL, he went ahead and had the wheels chromed and installed wheel locks. Mercedes-Benz boasted that this 450 SEL could hit 62 mph in 7.2 seconds, pretty good for a sedan. The 450 SEL's were the first to carry a form of ABS braking system. This Mercedes-Benz has no leaks. Never been in an accident. The owner became concerned when he noted that the clear coat on the paint began to fade, he had the car completely repainted and added clear coat, which cost about $9,400. This vehicle has been inspected and tested. Part of the inspection, we found it necessary to remove fuel tank and had it boiled out, cleaned and re sealed , along with a new fuel pump, fuel lines, and had the fuel distributor re built. This car even smells new. All the seats, and upholstery, still look new, it looks like the back seat has not been sat in. This is a gorgeous car and a one of a kind and one of an opportunity. Do not let this car slip through your fingers. When you are out taking this car for a drive, people know that this car is more than just a Mercedes-Benz, it's a classic Mercedes-Benz . Please call Al's Automotive at 310-325-1717,and set up a time to come by and see it and test drive it, you'll be glad you did. Al's Automotive, 2249 Pacific Coast Highway, Lomita, CA 90717-It does come with a warranty from Al's Automotive. Thank you.
Other Vehicles You May Be Interested In
Disclaimer
Price does not include government fees and state/local taxes, or any applicable fees. Depending on the age of the vehicle, normal wear and tear should be anticipated. Prices are subject to change without notice. While we do our best to describe our vehicles accurately, some descriptions and/or images provided by third parties may differ from the actual information or appearance of the vehicle. Al's Automotive Auto Sales assumes no liability for omissions or errors in this vehicle's description and encourages prospective buyers to verify the information carefully through contacting the dealership directly. Al's Automotive Auto Sales has the right to cancel a sale or a promise of a sale if an incorrect price has been given by mistake. All finance offers are O.A.C (On Approved Credit) / O.A.D (On Approved Deposit).

Our payment calculator tool is based on Tier 1 Credit and provides estimated monthly payments only. Actual payments may differ from that shown.